About Bali
Bali is an Indonesian island located as the westernmost of the Lesser Sunda Islands, lying between Java to the west and Lombok to the east. It is one of the country's 33 provinces with the provincial capital at Denpasar towards the south of the island. With a population recorded as 3,151,000 in 2005, the island is home to the vast majority of Indonesia's small Hindu minority. 93.18% of Bali's population adheres to Balinese Hinduism, while most of the remainder follow Islam.
Also known as the Land of the Gods, Bali appeals through its sheer natural beauty of looming volcanoes and lush terraced rice fields that exude peace and serenity. Bali enchants with its dramatic dances and colourful ceremonies, its arts and crafts and interesting culture. For this exotic island has much to offer, from inspirational spirituality to fine dining and meeting experiences, from world class surfing and diving to exhilarating treks in the wild. And everywhere you will find intricately carved temples. Bali is magical. As probably the most famous island in Indonesia, Bali blends spectacular mountain scenery and beautiful beaches with warm and friendly people and a vibrant culture.
Time difference
Central Indonesia Time which is GMT +8 (covering East and South Kalimantan, Sulawesi, Bali, Nusa Tenggara).
Currency
The Indonesia Rupiah is also called IDR. Information of daily exchange rate can be found in newspapers or from the internet. Some Indonesia banks provide this on their websites. IDR and US$ are the most acceptable currencies in Bali. Most tourism resorts have money changing facilities. When you are traveling to remote areas it is advisable to exchange your money in advance. Please note, credit cards are only acceptable in big hotels, restaurants, shops and traveling agencies.
Electricity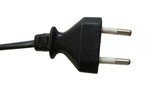 Electric power supply is 220 volts in all regions. So be careful with your 110-volt electronic equipment. The sockets will only fit with two pins rounded-tip plugs (technically known as Type C, E, and F) or use adaptors.
Flights
Flying is often the quickest and most convenient way to get around Indonesia and with 61 international and domestic airports serving all major cities the country is well serviced by many air carriers. A number of international airlines fly to Indonesia's main international airports in Jakarta, Denpasar, and Medan. For the AOEC the main international airport of Indonesia will be the Ngurah Rai Airport in Bali, situated 15km from the main town of Denpasar that serves flights direct from Australia, Asia and Europe. A number of international airlines also fly direct to Medan, Padang, Bandung, Surabaya, Solo, and Manado from Singapore or Kuala Lumpur. Garuda Indonesia, Indonesia's prime national airline provides flights to the country from 24 international destinations including Bangkok, Beijing, Hong Kong, Ho Chi Minh City, Kuala Lumpur, Seoul, Sydney, Melbourne, Jeddah, Singapore, Shanghai, Guangzhou (Canton), Tokyo, Nagoya, Osaka, Dubai and Amsterdam.