***Please note that the Grand Inna Bali Beach is now sold out***
The Grand Inna Bali Beach Hotel is next door to the 12th AOEC Venue Hotel, the Prime Plaza Hotel.
This 5 star hotel enjoys a beachside location offering a range of watersports and beautiful grounds surround the hotel. Guests can enjoy the spa, fitness centre, large outdoor pool, 9 hole golf course, jogging track and bicycle hire. The hotel offers a choice of restaurants, bars and 24 room service.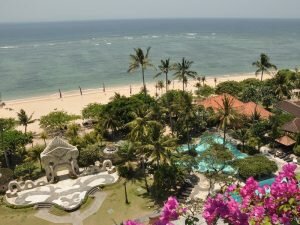 12th AOEC guests can avail of the following rates which are inclusive of 2 x breakfast and taxes:
SUPERIOR COTTAGE at IDR 700,000/R/N
DELUXE BEACH FRONT OR DELUXE GARDEN at IDR 1.000.000/R/N
EXECUTIVE SUITE COTTAGE ( consist of 2 bed rooms + 1 living room ) at IDR 2.500.000/unit.
Please contact Ardina on [email protected] to reserve your accommodation.